Puzzles, Pie & Potato Soup 2020
Friday, January 24, 2020 6 – 9 p.m.
Every year on the last weekend in January, sometimes as part of the Chisago Lakes Area Celebration of the Lakes, First UMC sponsors a jigsaw puzzle contest for teams of four. The event is designed for anyone in the Chisago Lakes area, as an outreach by our church. Call the church office by early January to enter a puzzle team. $20 team entry fee. All non puzzlers get in for a nominal fee ($2.00) at the door and receive a bowl of fantastic potato soup, a slice of homemade pie and some riveting action while watching the puzzlers.
Our next puzzle event will be, January 25, 2019, 6 – 9 p.m.
30828 Irene Ave., Lindstrom
corner of 3rd & Irene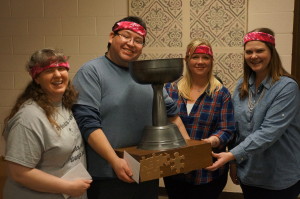 Tammy Figueroa, Jesse Figueroa, Debbie Moey,
2014 contest crowned new champions.
Congratulations!
Watch the video to see the proud team.
Watch our 2013 2nd place team complete their puzzle in less than 60 minutes