Education & Growth Ministries
Children at First
Families at First UMC are encouraged to begin the worship service together. We want children to feel welcome in the sanctuary. We offer both a Children's Moment during the worship service and "Worship Bags" to help children through the worship experience (bags located in the foyer). Please return the bags
at the end of the service.
Sunday School
Sunday school classes are offered for ages two years through 5th grade during the school year. Children will be invited to go to class after the Children's Moment and will be in class until 10:00. Please wait until class is over to pick up your child.
Sunday School is not offered on the first Sunday of the month so students can worship and commune with their families.
Nursery
If needed, babies and toddlers may be taken from the sanctuary to our nursery (please label all items brought to the nursery with your child's name). Nursery volunteers are provided during the school year. The ushers may direct you to this area.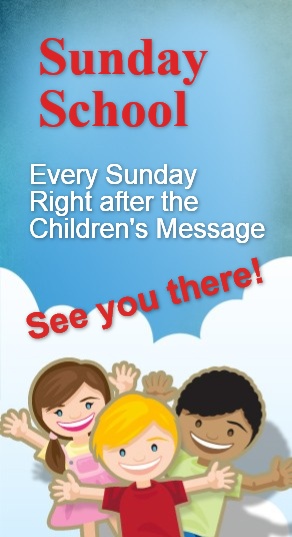 Wednesday Adult Bible Study
An adult bible or book study is offered throughout the program year on Wednesday nights from 6:00 -7:00 p.m. Pr. Dale leads this group.
Confirmation
Confirmation is offered for students in grades 6-8. Talk to Pr. Dale for more information.